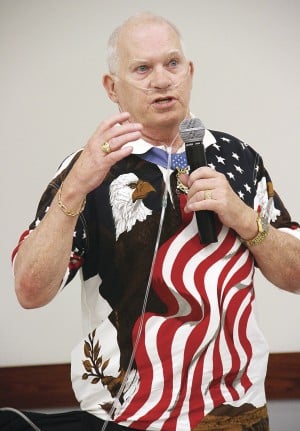 Medal of Honor recipient Sgt. John F. Baker speaks Tuesday at the Plumbers and Pipefitters Local 25 union hall in Rock Island. He thanked them for helping build a monument near the Interstate 280 bridge, which was renamed Baker Bridge in his honor in 2010. (Larry Fisher/QUAD-CITY TIMES)
QC Times
To his fellow military veterans, the unassuming 110-pound, 5-foot, 2-inch soldier named John F. Baker Jr. stood tall when it counted.
The only Medal of Honor recipient from the Quad-Cities died Friday evening in Columbia, S.C. Baker was 66.
Ray Hamilton, a friend and fellow Vietnam veteran, described Baker as an "extraordinary guy who carried himself as an ordinary person."
Family and friends shared their memories of Baker on Saturday, calling him a "quiet, wonderful man" who dropped out of Moline High School to join the Army during the Vietnam War.
Since earning the military's highest honor for valor in 1968, Baker has educated youth about U.S. military history and the importance of service.
In his later years, he had several heart surgeries, including one in July 2010. Hamilton of Port Byron, Ill., said Baker was in surgery just two days before he showed up at a ceremony in Rock Island when the Interstate 280 bridge was renamed the "Baker Bridge" in his honor.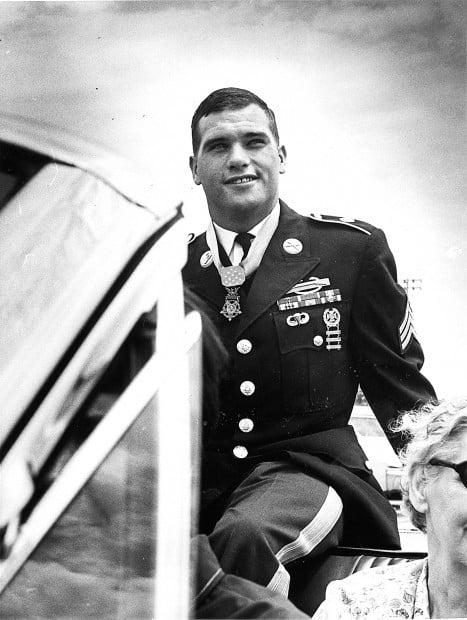 "John was a fighter," Hamilton said.
He finally succumbed to his failing health Friday, when he suffered a heart attack and died en route to a hospital near his home in Columbia, S.C., his friend, Kevin Shwedo, said.
He died in the company of his wife, Donnell Baker.
He left a legacy of service on future Medal of Honor recipients, including fellow Iowan Salvatore Giunta.
"Sgt. Baker will dearly be missed," Giunta said Saturday. "He was a good man."
When President Barack Obama awarded Giunta, of Hiawatha, Iowa, the medal on Nov. 16, 2010, he was the first living soldier since the Vietnam War to receive the distinction.
Baker had advice for Giunta in 2010: "He's just got to play it cool," Baker said.
Giunta said Saturday that Baker's mentoring as a senior recipient "did mean a lot to me."
Gloria Helfrich of Bettendorf said she always considered her older brother a hero.
"When kids would pick on me, Johnny got all over them," she said. "From a young age, if something went wrong, he took over."
Baker was born in Davenport and spent much of his childhood in Moline.
Baker remained unassuming, even after winning the Medal of Honor, Helfrich said.
"He didn't make a big thing about people thinking of him as a hero," Helfrich said. "He didn't feel like a hero. He felt the medal belonged to everyone in the Army. He was just its keeper."
Baker has lived in South Carolina since 1992, but he has stayed in touch with the Quad-Cities Chapter 299, Vietnam Veterans of America.
Hamilton, who is a member of Chapter 299, said Baker visited the Quad-Cities last year to thank everyone who helped in the bridge renaming project as well as a monument in his honor erected in front of Jumer's Casino & Hotel in Rock Island.
"He was always gracious," Hamilton said.
Until he died, Baker remained heavily involved in the Congressional Medal of Honor Society, which includes 83 living recipients.
His citation uses such phrases as "selfless heroism," "indomitable fighting spirit" and "extraordinary gallantry" to describe Baker, who was awarded the medal by President Lyndon Johnson after saving several soldiers while taking enemy fire on Nov. 5, 1966.
Shwedo said there's more to Baker's story than the one incident. He said Baker crawled through hundreds of yards of underground tunnels, pushing his way past scorpions and snakes to kill any hiding enemy soldiers and plant explosives to destroy the tunnels. He said Baker completed about 100 of those missions in Vietnam.
"I have not met very many people in life who performed that regularly and that routinely at that level of excellence," Shwedo said.
Funeral services for Baker have not yet been set. Dunbar Funeral Home of Columbia, S.C., is handling the arrangements.
Hamilton said Quad-Cities Chapter 299, Vietnam Veterans of America, will schedule a memorial service at a later date.
Read more:
http://www.qctimes.com/news/local/local-medal-of-honor-recipient-dies/article_5109c3ac-4472-11e1-accc-0019bb2963f4.html#ixzz1kI8Urmen