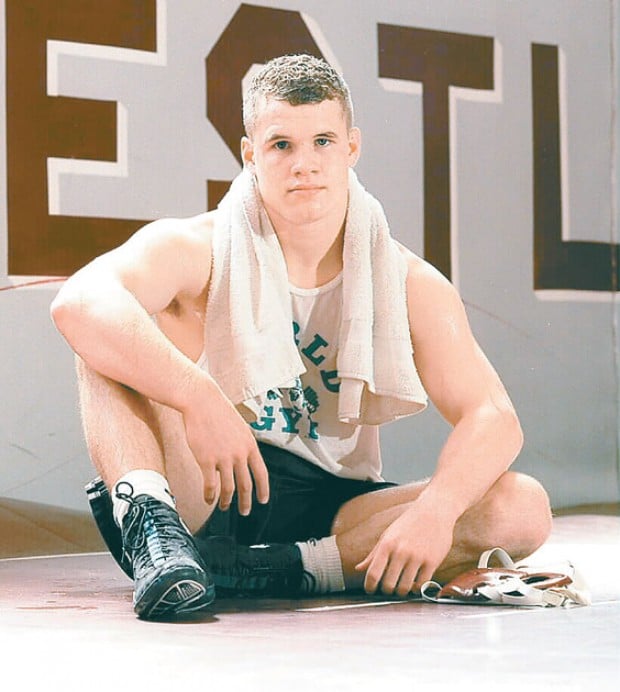 Attitude carries Lackey to Q-C Sports Hall of Fame : Quad Cities High School Sports - QCVarsity.com
:
John Puebla remembers the trepidation he felt almost every time he sent pint-sized Matt Lackey onto the mat to wrestle someone his own size.
The man who ran Moline's Park Board wrestling program for more than 20 years said he was genuinely frightened, not for Lackey but for the other kid.
"He (Lackey) was just a little guy, but he was so aggressive," Puebla said. "It used to scare me to watch. He was so confident. He didn't care how big the other guy was or anything. He was going to go after him."
That relentless, fearless approach took Lackey a long way in the sport of wrestling, to state championships, Big Ten championships and in 2003, an NCAA championship.
On May 2, it will carry him into the Quad-City Sports Hall of Fame. Lackey will be inducted at the Quad-City Times' annual Salute to Sports.
"He's one of those kids you don't get very often," said Moline athletic director Todd Rosenthal, who was Lackey's wrestling coach in high school. "He's a winner. He wants to win and he does not think about anything else. He just has a rare confidence. He really thought anything he got into he was going to win."
Rosenthal said Lackey wasn't necessarily his best wrestler in practice, largely because of his gregarious nature.
"But when the lights went on and there was an audience present, he was going to perform," Rosenthal said. "He was unbelievable sometimes."
Former Illinois coach Mark Johnson said Lackey was the best athlete he coached in his 17 years with the Illini. Like Rosenthal, he said Lackey went to another level when the spotlight came on.
"The more people there were there, the better he was," Johnson said. "When you got to the Big Ten and NCAA meets and there were big crowds … that's what he lived for."
Lots of help
Lackey began wrestling for Puebla in the park board program when he was 5, but he figures his preparation for the rigors of the sport began before that, as the youngest of five children. Having three older brothers got him ready.
"The physical and mental abuse was rampant," Lackey said. "We would get out and play football and they used to just crush me. I'd start crying and I'd start to walk home and they'd harass me so I would get mad and come back. Somewhere along the line, I'm sure that made me tougher."
Ask Lackey to list people who influenced his career and he does a 10-minute monologue. It always opens with his parents — Paul Lackey, now retired from John Deere, and Nancy Lackey, who is retiring this year after many decades as the secretary at Garfield School in Moline.
"Dad deserves a lot of credit," Lackey said. "He didn't know a lot about wrestling, but he was a blue-collar guy. He knew about hard work and being tough. And for me, wrestling was 99 percent about working hard and being tough."
Paul Lackey spent countless hours driving his youngest son to practices and tournaments, but he also established a template of effort and discipline.
"He always asked me if I wanted to be a state champ," Lackey said. "I'd say, 'Yes,' and he'd say, 'Then this is what we're going to do.'"
Lackey also credits Puebla, junior high coach Joe Terronez and Rosenthal. He worked out with Kevin Puebla, John's son, who preceded him as a state champion at Moline and an all-American at Illinois. He spent time on the mat with Bam Pustelnik, a star at United Township and Northern Iowa.
"Being able to work out with those kinds of people on a daily basis was huge," Lackey said.
Moline assistant coach Marty Mayhew would pick up Lackey at his house at 5:30 a.m. and take him to run the golf course on Arsenal Island or the hills at Prospect Park. Another Maroons aide, John Naab, mercilessly pushed him in the weight room.
Then, of course, there was Johnson, a Rock Island Alleman grad and lifelong friend.
"I was just blessed to have that many people who cared about me and cared about wrestling," Lackey said. "All of them helped me along the way."
A 'natural' on the mat
Lackey admitted he was good at wrestling from the very beginning. Along with some God-given athletic ability, he had a feel for the sport that is impossible to teach.
"I don't want to say it came easy to me, but I guess you could say I had a knack for it," he said.
John Puebla refers to him as "a natural."
"Every now and then you find one and you just go, 'Whoa.' He was eager to learn, willing to work hard …" Puebla said. "He loved the sport. Even as a small kid, he loved the challenge. He had no fear of getting hurt, no fear of going against a bigger guy, no fear of anything."
Lackey won age group state titles in both the seventh and eighth grade, but as he moved into the high school ranks, Rosenthal warned Paul and Nancy Lackey their son might find things tougher at that level.
"Paul just said, 'Rosey, he's all yours,'" Rosenthal said. "That's all they ever said to me."
Lackey did struggle a little in high school. He finished third in the state at 119 pounds as a freshman but battled through an ankle injury and did not place at state as a sophomore.
He didn't lose a match after that, though, going undefeated in both his junior and senior seasons with a freewheeling, crowd-pleasing style that even astonished his coach at times.
"I remember times when I would turn to Paul Carther, my assistant, and say, 'What did he just do?'" Rosenthal said. "He would do like a cartwheel over a guy and get him from behind. He also could just grind it out and break wrestlers down with his talent. ... He just had a way of performing. It was a total treat."
Going to Illinois
There never was any question where Lackey was going to wrestle in college.
When he was in the fifth grade, he went to an Alleman-Moline football game with his parents. Johnson, who was inducted into the Q-C Hall of Fame in 2000, had just been named the wrestling coach at Illinois and was there to watch his alma mater. Nancy Lackey spotted him in the stands and suggested they go talk to him.
"I couldn't even tell you what was said," Lackey said. "I don't think I probably said much. But I got an Illinois wrestling T-shirt in the mail the next week. I couldn't believe the guy even remembered who we were, but he got the name, tracked down an address and sent a T-shirt. That's the kind of guy he is."
Lackey became a regular at Johnson's camps, and he was in Iowa City to watch the Illini in the 1995 NCAA championships. It didn't hurt that Rosenthal was good friends with Johnson or that Steve Lackey, his older brother, had attended Illinois.
Other big-time programs never even bothered to contact him. Everyone knew where he was headed.
"I made one visit and committed early …" Lackey said. "It was a no-brainer. I wanted to be a national champ, and he was producing them."
That did not mean Lackey had a lock on a spot in the Illini lineup. He redshirted as a freshman and in his second year was beaten out for a starting job by a fifth-year senior.
Having to wait his turn was difficult, but Lackey said he learned from it.
"It's all part of a process," he said. "I'll take those two years out of the lineup to take what I got on the back end."
Once he got into the lineup, he took full advantage, going 31-9 as a sophomore, 38-2 as a junior and 38-0 as a senior. He was named the Big Ten male athlete of the year for 2002-03.
But he said his most vivid memory of that period is a loss to Iowa State's Joe Heskett in the 2002 NCAA championship match at 165 pounds. With the score tied at 2-2, Heskett scored a late takedown to win.
"It's the toughest athletic-related experience I've ever had to deal with," Lackey said. "Most people would look at it and think second place is pretty good. You should probably be happy with it. It would have been a better feeling to get my butt kicked. It was really an impactful experience."
He never lost again at the college level. The following December at the Midlands, he ran into Heskett, who had graduated from Iowa State, and beat him 9-5. In the 2003 NCAA finals, he was the one who scored a late takedown, executing a textbook foot-sweep to beat Troy Letters of Lehigh, 6-3.
Two Olympic shots
The next logical step was to take a stab at the Olympics the following year, but Lackey admits he wasn't entirely sure what he wanted to do. It showed in an early exit at the Olympic trials.
"Looking back, I'm not sure my heart was really in it the first time," he said. "It's just something I thought I should do."
After that, Lackey took a job as a sales rep in Colorado and spent a few years being "a regular Joe."
"But after 2 1/2 years of that, I started getting the itch again,'' he said. "I missed wrestling."
He spoke to Johnson, moved back to Champaign and began preparing for another run at the Olympics in 2008.
Very early in his comeback, he suffered a neck injury, underwent fusion surgery and was sidelined for six months. He didn't get back on the mat until the fall of 2007, leaving him about eight months to gear up for the trials.
"I did the best I could," Lackey said. "It had been three years and four months from the last time I'd put on a singlet."
In a tournament in Arizona, he lost to NCAA champion Ben Askren of Missouri in a match in which Lackey said his feet "felt like I had 20-pound weights on each one." However, he fought back to the third-place match, where he defeated Askren. He was on his way, determined to get what eluded him in 2004.
If anything, Lackey thinks he may have pushed too hard, trained too rigorously. He never felt right at the trials and was eliminated early again. The Olympic berth went to Askren.
"He gave it a good shot," Johnson said. "The fact that he didn't make (the Olympics) doesn't change my opinion of Matt Lackey one bit. There are a lot of things that factor into it and it just didn't work out."
It was not to be Lackey's last experience with wrestling.
He was involved for a few months with a gym in Ohio that trained athletes for mixed martial arts and other endeavors, came home to Moline for awhile and helped coach the Maroons while doing some substitute teaching, then finally landed a job as an assistant coach at Lock Haven University in Pennsylvania late in 2009.
He stayed there for two years before being hired in August as as assistant at the University at Buffalo. He thinks he might have finally found his niche.
"I really enjoy what I'm doing," Lackey said. "It's a lot of work, but I'm getting better at it every day.
"Most of the time I can't see myself doing anything different."
Matt Lackey timeline
1980: Born in Moline the youngest of five children of Paul and Nancy Lackey.
1985: Began wrestling in the Moline Park Board program.
1995: Finished third in the Illinois high school tournament at 119 pounds as a freshman; placed in top seven in both Greco-Roman and freestyle at Cadet national championships.
1996: Helped Moline to state team title despite nursing injured ankle; won 143-pound title and outstanding wrestler award at Cadet national championships.
1997: Went 42-0 and won Illinois high school championship at 145 pounds.
1998: Went 35-0 and won Illinois high school 152-pound title, winning final match by 25-10 score; finished high school career 158-13; won national junior championship at 154; named Illinois high school wrestler of the year and Moline Jaycees male athlete of the year.
1999: Redshirted as freshman at University of Illinois.
2000: Went 13-3 in limited action for the Illini at 165 pounds.
2001: Went 31-9 and finished third in NCAA meet at 165; named Illinois' most improved wrestler.
2002: Won Big Ten title and finished second in NCAA meet, losing close match to Iowa State's Joe Heskett; finished with record of 38-2.
2003: Won Big Ten and NCAA championships at 165, finishing with 38-0 record; named Big Ten's male athlete of the year.
2004: Failed in bid to make U.S. Olympic team and took job as sales rep in Colorado.
2008: Again came up short in attempt to make Olympic team.
2009: Hired as assistant coach at Lock Haven University.
2011: Hired as assistant head coach of University at Buffalo.
'via Blog this'